One in five winter sport accidents takes place outside Switzerland. This can quickly turn your dream holiday into a nightmare, particularly if your insurance won't pay the treatment costs. comparis.ch explains how to ensure a skiing accident does not turn into a financial fiasco.
With the stronger euro, skiing holidays in Switzerland's neighbouring countries are not as attractive as they once were. Nevertheless, this season is once again seeing many skiers taking to the slopes outside the Swiss Alps. What many don't want to think about is what happens if they have an accident. Even cautious skiers can be put in danger by other skiers. And the risk on foreign slopes is by no means lower than on Swiss ones. In 2015 alone, some 6,550 Swiss skiers and snowboarders had accidents abroad. Most were in Austria, France, Italy and Germany, but Canada, USA and Liechtenstein also featured.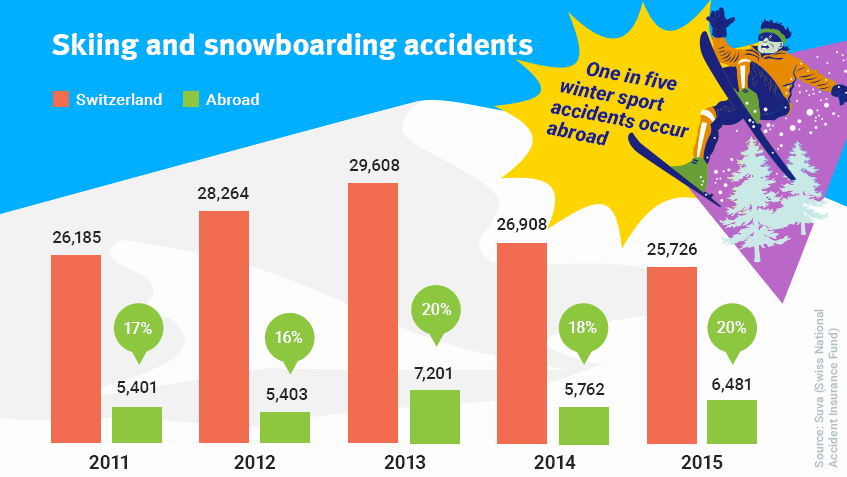 To ensure you don't have to foot the bill for doctor, hospital and repatriation costs should the unexpected happen, you need to think carefully about your insurance cover before you set off.
Accidents abroad – who pays?
Scenario 1: If you work a minimum of eight hours per week, your employer is obliged to insure you against accidents – even those that occur during leisure time. Accident insurance provides the same cover in EU and EFTA countries that you would get if you had social insurance in the country in question. Some employers provide insurance cover that goes above and beyond the minimum requirement. To avoid being underinsured, or even overinsured (through supplemental insurance), it's a good idea to check with your employer to find out exactly what cover is offered.
Scenario 2: If you are employed for less than eight hours per week or are self-employed, you can take out accident insurance through your health insurance company. Important: Unlike with the accident insurance provided by an employer, you need to make a contribution to these costs yourself (deductible of 300 to 2,500 francs and coinsurance of 10 per cent of benefits once the deductible has been reached – maximum of 700 francs per year).
Some countries are more expensive than others
Looking forward to some powder snow at Whistler, Canada? Then take note. Outside EU and EFTA countries, obligatory accident insurance pays a maximum of double the cost of treatment that would have been incurred in a public hospital in Switzerland.Although that may appear generous, in countries with expensive healthcare systems like the USA and Canada, it is barely enough.
Be careful with private medical treatment abroad
If you only have accident cover through your mandatory basic insurance (and don't want to pay extra), you are limited in your choice of doctor and hospital. As treatment by a private doctor is not covered, you will need a public hospital or a doctor who bills at the local basic rate. The problem is that in some ski resorts it's not easy to find this kind of doctor or hospital. Tourists often end up being seen by private doctors or in private clinics – sometimes without realizing – and are charged higher rates.
If in doubt, ask your insurer
It's also not uncommon for hotels to arrange for their guests to be taken directly to a private clinic in the event of an accident, without consulting them beforehand. In some Austrian ski resorts, private clinics have even been known to send their own helicopters to rescue patients from the slope and then treat them, even though these patients could have been repatriated to Switzerland. Before a medical intervention, patients usually have to confirm in writing that they will pay for all costs. But an accident is generally a stressful situation, and everything has to happen quickly. Even so, you should always call your insurance helpline if anything is unclear. If you aren't careful, you may end up having to shell out tens of thousands of francs.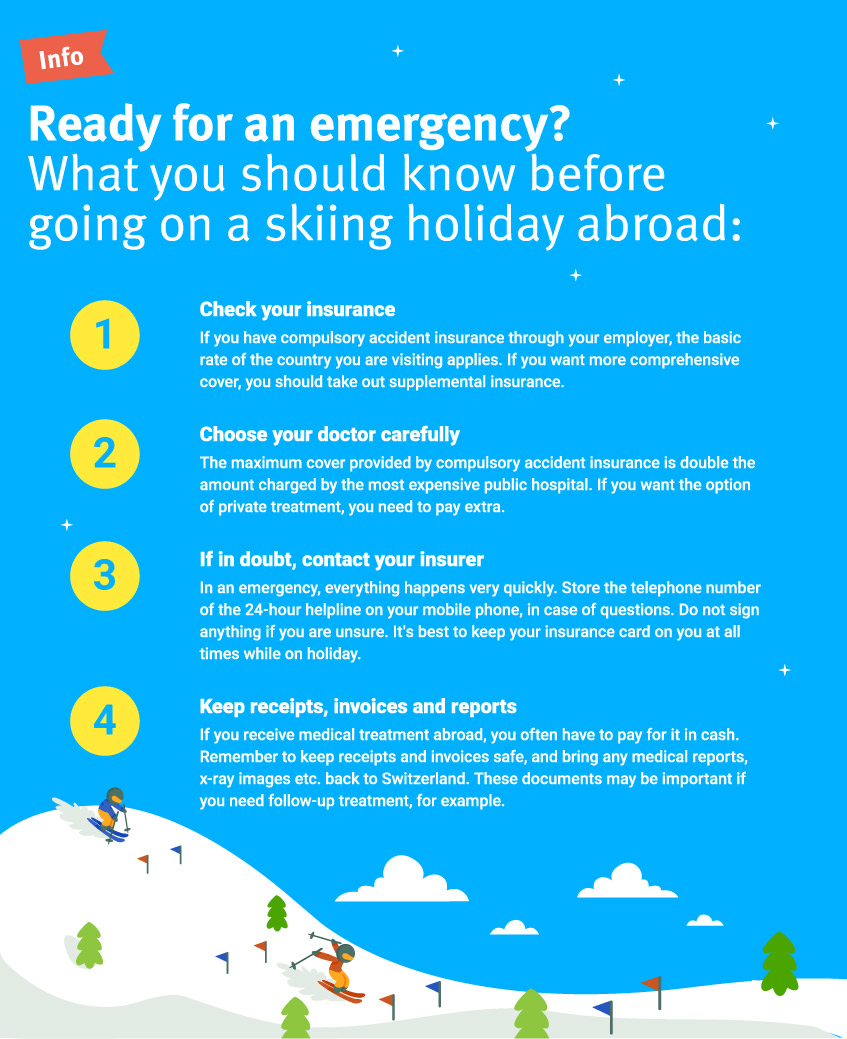 Who covers the cost of repatriation?
After a particularly serious accident, it may make sense to repatriate the patient if their condition allows it. Repatriation by rescue helicopter or passenger aircraft can be extremely expensive. According to the Health Insurance Act (KVG), statutory accident insurance covers half the cost of rescue up to a maximum of 5,000 francs per year for transportation, but only in Switzerland. However, under the Accident Insurance Act (UVG), statutory accident insurance reimburses the required costs of rescue and recovery plus medically necessary travel and transportation costs up to a fifth of the maximum sum currently insured, in other words a maximum of 29,640 francs, if the costs are incurred abroad. A rescue involves freeing an insured person from an acutely threatening situation where their life and health are in danger. Without this acute threat, the action is considered a medically necessary transportation.
Even Rega patrons are not necessarily covered when it comes to rescue costs. "Rega patrons are not automatically entitled to rescue flights," says Felix Schneuwly, health insurance expert at comparis.ch. As there is no legal entitlement, Rega is not obliged to provide help. It can waive the cost of repatriation for its patrons if the insurance company won't contribute.
You can find more information on who covers the cost of ambulances and rescue helicopters here.
To sum up: The cost of a skiing accident abroad can quickly run into thousands if not tens of thousands of francs. You should therefore examine your insurance cover carefully before setting off. Depending on your situation, it may make sense to take out supplemental insurance. This should cover the unlimited cost of treatment or repatriation to Switzerland in the event of a serious illness or accident.. Travel or supplemental insurance also usually includes luggage cover and cancellation costs. As with any insurance, it feels expensive until you need it – but then it's the best value thing you can buy.