The Swiss retirement system is based on the three-pillar principle, with pensions regulated on public, occupational and private levels. The first two pillars are formed by the state pension and an occupational pension from the employer, while a purely private pension constitutes the third pillar. An adequate private retirement provision is vital for a comfortable retirement with no shortfall.
The Swiss 3-pillar system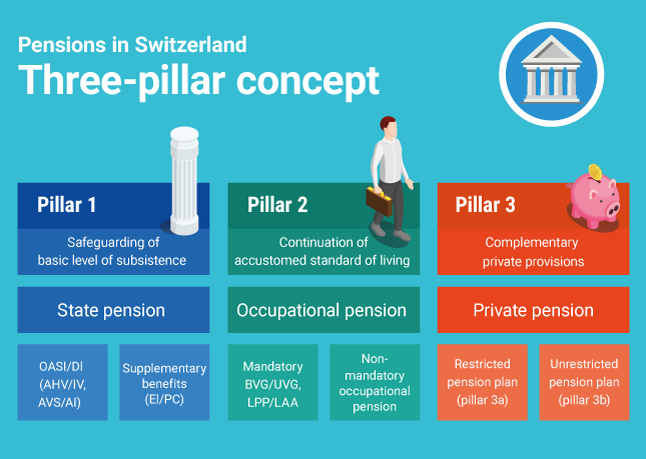 Pillar 1 – Safeguarding a basic level of subsistence in retirement
The first pillar includes the old-age and survivors' insurance (AHV/AVS), the disability insurance (IV/AI) and supplementary benefits (EL/PC).
It is an obligatory state pension and serves to safeguard a basic level of subsistence in retirement and in the event of disability. It also provides for the surviving dependants in the event of the insured person's death. Generally every person resident or working in Switzerland is insured.
Pillar 2 – Supplement to pillar 1
The occupational old-age, survivors' and disability pension (BVG/LPP) and the Accident Insurance Act (UVG/LAA) together make up the second pillar. This insurance is mandatory for employed persons with an annual salary liable to AHV/ALV of 21,150 francs or more.
The risks of death and disability are covered starting from the insured's 18th birthday, and the retirement benefits from the age of 25.
Pillar 3 – Private pension
The third pillar is optional and designed to supplement the first and second pillars as their benefits are rarely sufficient to guaranteed a person's accustomed standard of living in retirement.
A distinction is made between restricted pension plans (3a) and unrestricted pension plans (3b). Contributions to a restricted pension plan (3a) may be deducted from the taxable income.
Gain an overview of your future financial situation in less than a minute.
Become active and plan ahead for your retirement
The state pension and occupational pension benefits (pillars 1 and 2) are often too small to allow pensioners to maintain their standard of living in retirement. Without a pillar 3a (private) pension there can be a substantial gap in your financial provisions. The 3rd pillar functions as a private pension designed to close the pension gap. This is a purely optional form of pension and has to be taken out by the individual. However, it is advisable to draw up a savings plan for the 3rd pillar if you really want to be able to stop working with no worries and with the necessary financial cushion in place. Besides, investing with pillar 3a allows you to save on tax even before going into retirement.
Why do I need a consultation?
Because there are many options for planning your retirement, the process can be confusing and it can be difficult to find the right investment solution.
The experts of our partners can review your pension arrangements and provide independent advice to help you find the ideal investment option for your retirement in Switzerland – a solution tailored to your needs and your personal and financial situation.
Request a free, no-obligation consultation
Pillar 3 structure
Pillar 3a: the restricted pension plan

Investing and saving with pillar 3a is also referred to as restricted pension planning because the corresponding contracts with banks and/or insurance companies are binding. Regular contributions are made into the bank account or life insurance. This money is no longer at the investor's free disposal afterwards. Only in a few exceptional cases may the savings be accessed before retirement, such as to pay off a mortgage. Still, investing with pillar 3a pays off, especially since this entails tax advantages as private pensions are subsidized with federal funds. All pillar 3a deposits may be deducted from the taxable income in the annual tax return. While it is true that taxes are due once the pension benefits are received, this does not outweigh the total tax advantages.

Pillar 3b: additional pension

If you have already invested in pillar 3a and paid in the maximum tax-deductible contribution, you can still set aside more money for your retirement. This is possible with the so-called pillar 3b, where savings are not tied to fixed contracts or forms of investment. On the other hand, pillar 3b does not entail any tax advantages. Many retirement planning solutions in this pillar are very flexible and may be changed or terminated regularly.
Request a free, no-obligation consultation