The mortgage rate refers to the rate of interest charged to cover the cost of taking out a mortgage.
It must be paid to the lender at regular intervals (usually monthly).
The mortgage rate is influenced by various factors. How high it is depends largely on the following:
The bank then adds a margin to the benchmark interest rate. The benchmark interest rate plus the margin equals the interest rate the bank will actually charge for the chosen mortgage. The margin is calculated on an individual basis. The higher the bank's assessment of the mortgage borrower's credit standing and the property (location, condition), the smaller the margin and therefore the lower the actual mortgage rate.
The interest rate for a second mortgage (loan-to-value ratio starting at 66 per cent) is generally higher than that for a first mortgage (loan-to-value ratio up to 65 per cent). Higher rates also apply to holiday homes, second properties and commercial and industrial buildings.
Mortgage rate trends and market conditions
In our Mortgage Barometer, produced quarterly by the mortgage experts at comparis.ch, you can find detailed information on mortgage rate trends in recent years up to the last quarter. What economic events influence the current interest rate situation? Which mortgage terms are the most popular? Find out here about current market conditions.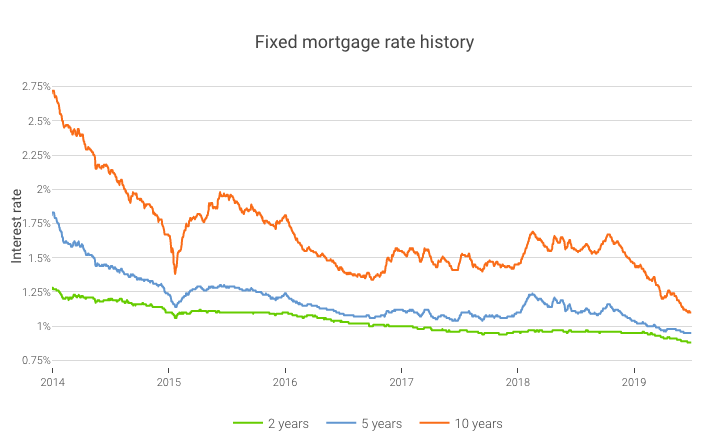 Rate comparison by mortgage term
Compare different fixed mortgage rates in the interactive mortgage rate trends chart created by comparis.ch. This chart shows you how mortgage rates have changed over the last few years. It allows you to compare the rates for up to three different mortgage terms. Interest rates for shorter terms are usually lower than those for long-term mortgages.
Rate comparison by lender
Our mortgage chart depicts not only how the interest rates have changed for the various terms, but also how they have changed for the individual Swiss lenders. When you select a mortgage term, the interest rate curve of the different lenders is displayed in the chart. Use the interactive tools to change the time period or view the actual interest rate on a specific date.