Unique to Switzerland@Model.TitleTagString>
Working in Switzerland? Read here about the social security benefits you are entitled to, how to open a Swiss bank account and why you need to pay withholding tax, and learn about the rivalry that exists between cantons.
The cantons and their differences@Model.TitleTagString>
Since the Swiss Federal State was founded in 1848, federalism has been one of its basic principles. This is why Switzerland's 26 federal states – the so-called cantons – are very sovereign. For instance, each canton has its own constitution and authorities. Cantons are comparable to the Federal States of the U.S.
However, the extent of their independence from the State and also of the differences among them in terms of authorities, laws, price levels and, not least of all, culture might come as a surprise to many immigrants. Federalism is visible everywhere and sometimes practised to an absurd extent. This fact along with the attitude of some inhabitants of a canton towards those of another canton is frequently termed "Kantönligeist" (slightly derogatory for 'cantonal partisanship') by the German speaking Swiss.
Besides, each canton or region of a canton speaks its own dialect Try and get used to this and impress locals by learning to distinguish them from one another. Extensive discussions about dialects often are an essential part of a pleasant intercultural evening in Switzerland.
There are other differences among the cantons. Keep in mind the following factors when choosing your new place to live:
Level of taxes or withholding tax
Level of health insurance premiums
Cost of living, in particular housing costs
Provisions governing the import of fighting dogs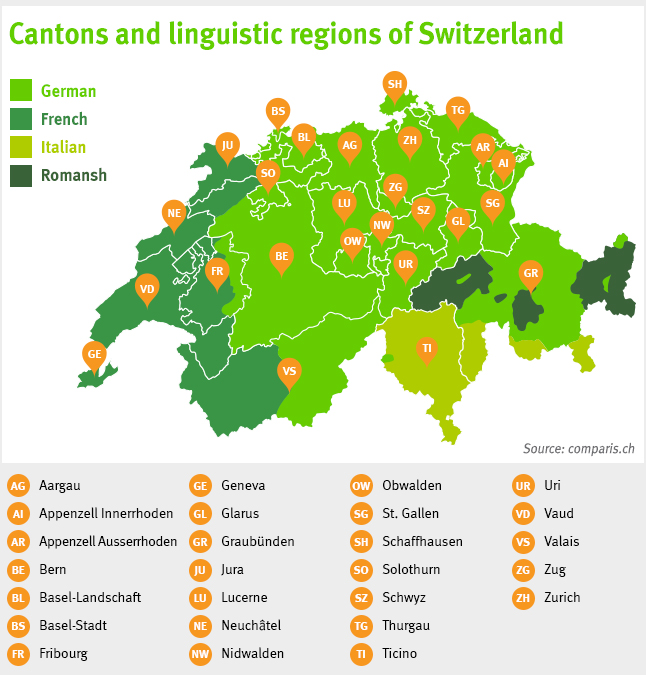 Benefits you can expect from your employer@Model.TitleTagString>
There are four statutory benefits that your employer is legally required to provide:
Paid holiday (minimum of four weeks)
Paid public holidays (which vary from canton to canton)
Paid sick leave
Family allowances
The practice of paying a "13th month salary" is not a statutory requirement.
Good insurance cover is normally in place for employees in Switzerland. Anyone who is employed for more than eight hours per week with a single employer is automatically insured against accidents (Accident Insurance Act – UVG) by this employer. Employers can also voluntarily choose to insure their employees against sickness absence. There is normally a cap of a few weeks on the period of sick leave for which salary is paid, so many collective employment agreements require daily benefits insurance to be taken out.
Employers also take care of some other social security benefits that are deducted directly from salary and transferred to an insurance, specifically:
Old age and invalidity insurance (AHV/IV/EO); deducted at 5.15 percent of salary
Unemployment insurance (ALV); deducted at 1.1 percent of salary
Occupational pension (BVG); deducted at between 7 percent and 18 percent of salary, depending on age and gender
The Swiss salary statement@Model.TitleTagString>
The salary statement is a form applicable throughout Switzerland, produced in German, French and Italian, to certify all salary elements and expenses received. The same salary statement is also used as a pension statement. All employers are required to provide their employees with a salary statement for the previous year at the beginning of the year.
For employees subject to withholding tax, this withholding tax is shown under item 12 of the salary statement. To help you find your way around your salary statement, here is a quick explanation of the key items:
1. Salary/pension: all amounts paid by the employer that are not listed separately under items 2 to 7
8. Total gross salary/pension: the total of all income shown under items 1 to 7, before deduction of social security contributions, withholding tax, etc.
9. AHV/IV/EO/ALV/NBUV contributions: the precise amount of all social security deductions, e.g. for AHV (old age and survivors' insurance) and ALV (mandatory unemployment insurance)
10. Occupational pension: deduction paid to tax-exempt collective occupational pension schemes (pillar 2)
11. Net salary: the relevant net salary calculated by subtracting all the deductions made (items 9 and 10) from the gross salary (item 8)
13. Expenses received: reimbursement by the employer of all expenses incurred by the employee in the course of his/her work (e.g. business travel) that are not included in the gross salary
Below you can find a detailed description of all items in the instructions for completion of the salary statement produced by the Swiss Tax Conference (SSK) and the Swiss Federal Tax Administration (FTA) (not available in English):
The fabled Swiss bank account@Model.TitleTagString>
Any adult can open a bank account. This is best achieved in a face-to-face meeting with a client advisor at a bank. Check out the banks' interest rates and other terms and conditions first.
For legal reasons, it is not (yet) possible to open a Swiss bank account solely over the internet. You should take with you to your appointment:
An official identity document: the bank must be able to confirm the identity of the client
Evidence of the origin of your money: under anti-money laundering legislation, all banks are required to establish where the applicant's money came from. All banks reserve the right to reject a client if they cannot satisfy themselves as to the origin of the funds.
Good to know:
Unlike in other countries, overdraft facilities are not automatically available in Switzerland. You can arrange with your bank for an overdraft to be set up. However, this is normally only worth doing if you plan to go overdrawn in the near term.
The truly distinctive feature of a Swiss bank account remains bank-client confidentiality, or banking secrecy. What this means is that banks are not permitted to disclose any information regarding their clients without a court order.
U.S. citizens are technically entitled to open a Swiss bank account like any other foreigner, but in reality this involves considerable effort and expenses (the banks pass the additional administrative costs on to the client). Furthermore, it is a compulsory requirement for American clients to agree to the removal of bank-client confidentiality for automatic data transfer to the IRS.
Withholding tax@Model.TitleTagString>
All foreign workers who do not have a C residence permit are liable for withholding tax. This means that the amounts payable to the federal state, your canton and your municipality are deducted directly from your salary by your employer and transferred to the tax authorities. The figure varies between cantons. However, holders of C permits need to complete their own tax declaration.
You can find more information on the Swiss Federal Tax Administration (FTA) website (available in German, French and Italian only).
The Comparis Withholding Tax Calculator gives you a quick and easy way to work out your tax burden in your own canton and to compare across cantons.
Good to know:
Withholding tax can also be reclaimed. The types and amounts of deductions vary from canton to canton. It is therefore best to find out more from your local tax authority. Tax-deductible items can include, for example, spending on training, retirement provision, alimony and child support, and charitable donations.
Pensions@Model.TitleTagString>
Swiss pensions are based on what is termed the "three-pillar system":
Pillar 1 – State pension
Pillar 1 is designed to provide for the basics of life in old age, and everyone must pay into it.
Contributions are deducted directly from your salary (at a rate of 6.25 percent). It covers old age and survivors' insurance (AHV), invalidity insurance (IV) and any supplementary benefits (EL).
Pillar 2 – Occupational pension
Mandatory for everyone who is in work.
Pillar 2 supplements Pillar 1 in funding the cost of living.
These contributions are also deducted directly from your salary (at a rate of between 7 and 18 percent, depending on your age and gender).
This pillar is also known by the abbreviation "BVG" or colloquially as a "pension fund".
Pillar 3 – Personal pension
You can voluntarily choose to use your personal savings to improve your retirement provision, supplementing pillars 1 and 2.
A distinction is drawn between Pillar 3a, referred to as "tied" or "restricted", and Pillar 3b, which is "flexible" or "unrestricted".
Good to know:
Making Pillar 3a contributions brings tax advantages, as these amounts can be deducted from your annual income. comparis.ch offers a comparison of Pillar 3a accounts.
Work permit@Model.TitleTagString>
Immigrants from EU / EFTA member states do not require a work permit. There are a few exceptions: Transitional provisions apply for job seekers from Bulgaria, Romania and Croatia.
From non-EU countries, a limited number of highly skilled labour is admitted.
You can find further information on the transitional provisions regarding citizens from new EU member states, the conditions applying to citizens from non-EU countries and the competent migration authorities on the website of the State Secretariat for Migration (SEM).
Residence permit@Model.TitleTagString>
EU and EFTA citizens are entitled to a residence permit provided that they work in Switzerland and hold an employment contract. Quite often, the employer will take care of the necessary formalities. Transitional provisions still apply for immigrants from Bulgaria, Romania and Croatia. There are different types of residence permits:
L permit: short stay permit, valid for up to one year
B permit: residence permit, valid for up to five years
C permit: permanent residence permit, valid for an unlimited period
You can find more information on permits and the conditions applying to non-EU citizens on the website of the State Secretariat for Migration (SEM).
Good to know:
Foreigners may travel in Switzerland without a special permit for 3 months as tourists. If they are looking for a job, they can usually apply for an L permit after these 3 months have lapsed. However, they are not entitled to social insurance.