Voice recognition is taking over our everyday life – we use it for controlling household appliances, asking for information and playing our music. The market leader is: Alexa. Amazon's voice assistant can now read out the property news from comparis.ch.
Although many people still find it strange talking to a machine, after the initial teething troubles of Siri & co., voice activated systems now perform very well. While in 2012 the error rate for such systems was still around 30 percent, now it is around 5 percent. Even real people aren't able to hear and understand better than that.
Voice activation systems are convenient. What really swings the balance, however, is their speed. Experts estimate that we speak up to seven times more quickly than we write. Using your voice as an activator pushes keyboards and touch-screens aside. What's more, digital voice assistants are becoming more and more intelligent and can now learn the personal preferences of their users. They are becoming everyday assistants, which at some point will even be able to order your favourite pizza from your favourite Italian takeaway.
From smart phone to smart home
Given such future scenarios it is little wonder that the market for voice activation systems is so competitive. In this market, voice activation for smart phones and computers is already a thing of the past; now it's all about the "smart home". For example you can link up your lights so you can dim them with a voice command, and more and more voice controlled products such as heating thermostats, blinds, alarm systems and even fridges and ovens are coming onto the market. Voice activated household assistants like "Bring!", which allows users to create shopping lists using voice commands, are already particularly popular and widespread.
Alexa, play Ed Sheeran!
Digital voice assistants can also access online music and information services. The most widely used assistant is the Alexa Voice Service, Amazon's voice recognition service. This language prodigy is built into devices such as Amazon's own Echo Dot loudspeaker. Once the little round box is linked to the home network, the clever voice assistant simply waits for its wake word. If the user then says "Alexa" followed by the relevant voice command, she will play music, read out the news or provide information on when the next train departs. The Amazon Echo Dot is the smallest of Amazon's home assistant devices. Amazon does not yet deliver it to Switzerland, but it can be bought from various Swiss suppliers (go to Comparis Price Comparison).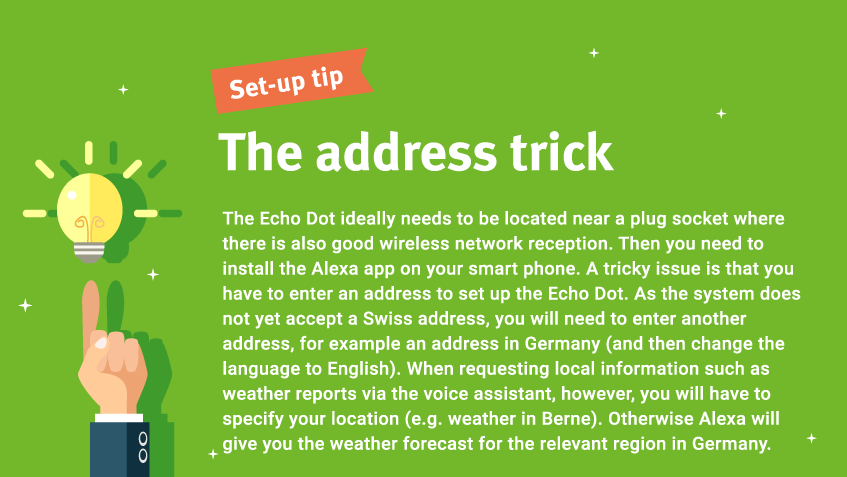 Alexa's rivals
With services such as online shopping in mind, Amazon is trying to introduce Alexa into as many households as possible via its Echo devices. At the moment, competitors like Microsoft's Cortana and Apple's Siri are lagging behind: "Invoke" from Harman-Kardon, the first loudspeaker to have Cortana built in, is currently only available in the USA, while Apple's Siri speaker "HomePod" only comes onto the market this year.
A serious competitor to Alexa, however, is Google's "Assistant", a voice assistant now coming onto the market as an integral part of sound systems from JBL, Onkyo and Sony, among others. The "Google Home" loudspeaker has been available to buy in Switzerland since last autumn. It's speciality is managing personal appointments. "Amazon knows what I want to buy, but overall Google knows me better", says Jean-Claude Frick, Digital Expert at comparis.ch. In his opinion, voice assistants will replace smart phones sooner or later. "Why would I go to the trouble of getting out my smart phone if I could access my calls, appointments and an increasing number of other services with my voice?" says Frick.
The more skills you teach them, the cleverer they become
What makes voice activated speakers like Amazon's Echo Dot special is the fact that they can learn. What they can do is dependent on the apps or skills that are added to them. One reason why Amazon's voice activation system is so popular is its large number of skills, currently free and totalling more than 15,000. There are around 400 voice apps for Google Assistant and less than 100 skills for Microsoft Cortana (updated June 2017).
The reason for Amazon's enormous lead is that it allows third parties to develop smart apps for Alexa. The number of specific Swiss skills on offer from Amazon is, however, currently still modest. Prominent alongside news, SBB timetables, information on Swiss regional number plate abbreviations and Swiss facts is the Comparis Property service.
comparis.ch develops Alexa skill
comparis.ch, Switzerland's leading online comparison site, has developed an Alexa skill (currently available in German only) specifically for the Amazon Echo Dot. Once you have installed it, you can ask Alexa to read out to you the 10 most popular property offers in Switzerland from the last 24 hours. «Alexa, öffne Comparis-Immobilien» is the command required to open the service. The available content is still limited and plans are to expand it little by little, but it is already possible to imagine the opportunities that could open up with digital assistants in the future.