In this article:
How much does moving cost in Switzerland?
Your moving expenses will depend on a number of factors, including:
Number of rooms in your apartment
Distance between the old and new apartment
Amount, weight and size of furniture and moving boxes
Other factors to consider when calculating your relocation costs include whether you hire a moving company, plan your move yourself and have your apartment professionally cleaned. Depending on the condition of your old apartment, you may also have to pay for repair costs. Additional expenses include rent for the new apartment, the new rental deposit, new furniture and disposal costs for old furniture.
Average expenses for a move
Here's an example calculation for the cost of moving out of a 4.5-room apartment: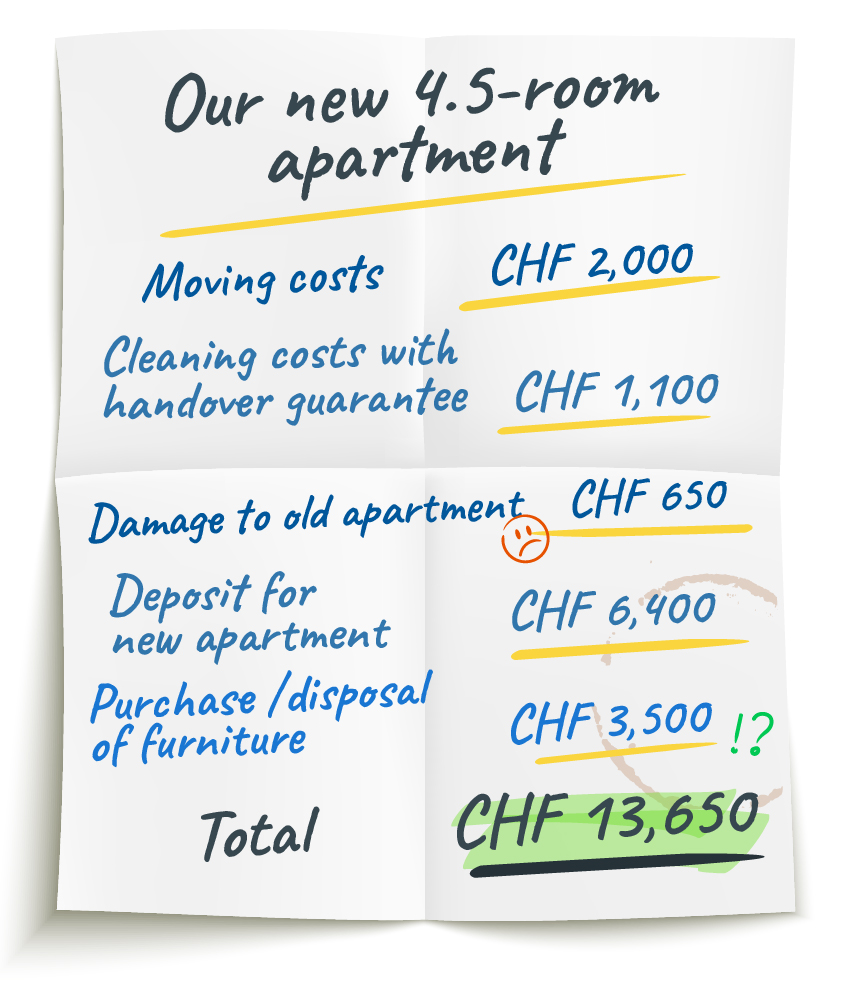 When does it make sense to take out a loan for moving expenses?
In some situations, a personal loan may be an appropriate solution for bridging short-term financial gaps and making your relocation easier. Once you have received your loan and prepared a budget, the money is yours to use as you see fit.
A relocation loan offers the following advantages:
✔ No dipping into your savings account: it is always wise to have some savings for unforeseen events. A personal loan can give you peace of mind by helping you pay for your move without touching your savings account.
✔ Financing your next rental deposit: landlords in Switzerland may request rental deposits that are equivalent to up to three months' rent. This is on top of the first month's rent that has to be paid in advance. Several thousand francs in bills can easily accumulate before you have even moved in. One option is paying your rental deposit using a personal loan so that your money is available for other expenses such as buying new furniture and having your old apartment cleaned.
✔ Purchasing furniture from several stores: perhaps you're moving into a bigger apartment or need to dispose of some old belongings. In this case you may need new furniture. Instead of using your credit card at several different retailers or having to keep an eye on multiple bills over the coming months, why not simply take out a personal loan? This could free you up to pay for your furniture in cash, for instance, meaning you only need to think about paying off your monthly loan instalments.
Compare personal loans now
Buying furniture: credit card, store card or personal loan?
If you're worried about losing track of having to pay monthly instalments to several furniture retailers, you may have considered using other financing options like paying with a store card or a credit card. Keep in mind that instalment payment plans at furniture stores tend to be expensive: paying by credit card or customer card can cost you up to 12% interest. In some cases, taking out a personal loan is a cheaper option thanks to the lower interest rates.