Bye-bye banks: due to the low-interest-rate environment, bonds generate losses over the long term and savings accounts pay no interest. This makes alternative forms of finance such as crowdlending attractive. An overview of the key facts.
Crowdlending, which is also referred to as peer-to-peer (P2P) lending, is a form of Internet-based lending in which loans are generally provided by a number of private individuals to other private individuals or to businesses. The two sides find each other on what are known as online credit market places. Credit seekers present their projects that require financing on the market places, and lenders (investors) get an opportunity to invest in them.
If enough lenders can be found for a project, their individual contributions are combined to form an interest-bearing loan. The market place operators charge the borrowers and sometimes also the investors a fee for their mediation services.
Those who are in need of financing can submit a loan on a provider's website. In the process, they have to provide various pieces of information on their personal and financial situation, which enables assessment of their creditworthiness as part of a credit check. The resulting credit rating reflects the default risk for the investor and is a key factor in determining the interest rate. If the credit decision is positive, the credit project is presented to potential lenders on the online market place. To invest in credit projects, lenders have to go through a relatively straightforward registration process on the provider's platform. Once the platform operator has successfully verified their identity, they can start investing straight away.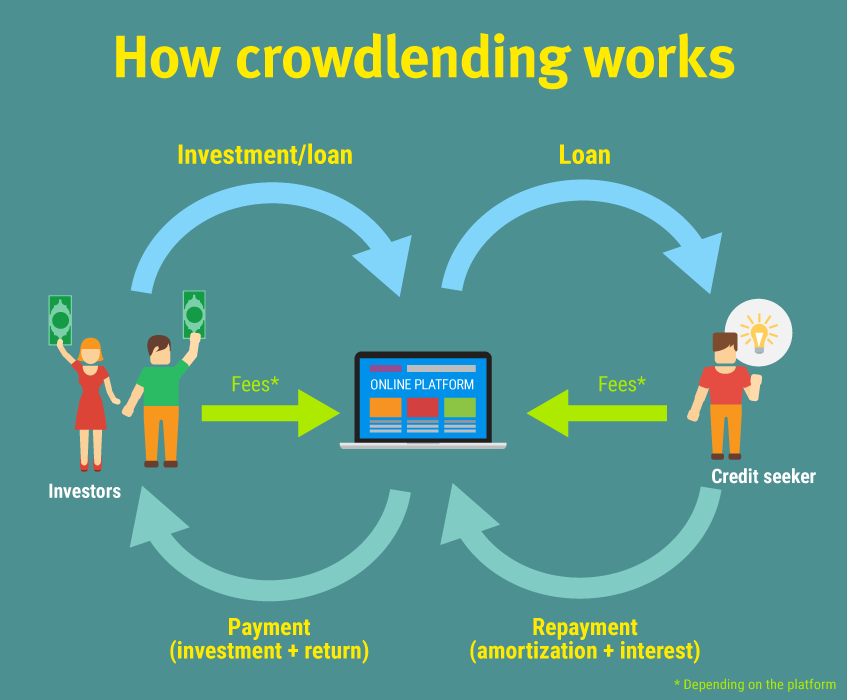 What are the advantages and risks of crowdlending?
The most important advantages for borrowers:
The process is (usually) more transparent, easier and quicker than with a bank
It provides an opportunity to enter into direct contact with potential customers and receive direct feedback
The most important advantages for investors:
Comparatively attractive return opportunities
Easy to achieve risk diversification thanks to low minimum investments
Overall management of the loan arrangement (credit check, documentation, payment processing and collection) is carried out by the market place operator
As with all forms of investment and financing, crowdlending also involves certain risks. If the borrower defaults, the investor is threatened, in a worst-case scenario, with the loss of his or her entire investment. Investors should also bear in mind that borrowers may be late in meeting their payment obligations in certain circumstances or that they may wish to pay off the loan early if possible. Credit seekers, on the other hand, should be aware that the rejection rate for loan applications is high and that a poor credit rating can lead to high interest payments. What is more, they are assessed by both the crowdlending providers and the lenders, which can entail long waiting periods.
What are the disadvantages in comparison with personal loans?
Crowdlending has a number of crucial disadvantages for borrowers in comparison with traditional personal loans. With personal loans, for example, it is clear relatively quickly what the amount of the loan will be. In the case of crowdlending, however, it is possible that not enough investors will be found and a loan will be paid out very late or not at all. This can make crowdlending a slow process, even though speed is normally one of its advantages.
A further major drawback of crowdlending in comparison with personal loans is the lack of borrower protection. Unlike personal loans, loans via crowdlending platforms are not governed by the Consumer Credit Act because they are issued from person to person. This act forms the basis of regular loan agreements, however, and is intended to protect borrowers from getting into too much debt. As a result, the result of the risk assessment is often worse than with banks. Furthermore, the amounts of money involved are often small in comparison with classic personal loans. This makes it difficult to diversify risk, with the result that even minor defaults can have a major impact.
Which platforms are available?
The Swiss crowdlending market is growing rapidly. Between 2014 and 2016, the credit volume grew from 3.5 million to some 55 million francs (including SME loans). If you exclude SME loans from the figures, the volume at the end of 2016 was 24 million francs. By way of comparison: the total market for private loans is currently worth about 4 billion francs.
There are now more than a dozen providers on the market and they generally concentrate on one or more of three main segments: personal loans, SME loans and personal and commercial mortgage loans. In addition, certain platforms attempt to differentiate themselves from the competition by means of additional products or by specializing in a specific sub-segment.
Who is crowdlending suitable for?
All in all, crowdlending offers private individuals, SMEs and self-employed people an interesting alternative to a traditional bank loan, enabling them to obtain finance in a (mostly) straightforward way and at fair conditions. Given the default risk of private customers, however, SME loans are of most interest. In addition, borrowers should be aware of the risks and disadvantages of crowdlending (especially in relation to personal loans) and take them into account accordingly when assessing it as an option. For investors, crowdlending primarily opens up a new source of returns in the current environment of low interest rates. As is always the case, however: the higher the interest rate, the higher the risk.