97 per cent of Swiss Internet users buy something from an online shop at least once a year. The most frequently purchased products are clothing, shoes, accessories, entertainment media and electronics. According to our representative survey, around 85 per cent of online buyers spend up to 2,000 francs per year on online shopping, with 15 per cent spending more still.
Whether at Zalando, Digitec or Siroop, online shopping in Switzerland is flourishing. No matter what the occasion, almost all Internet users in Switzerland buy the products they need from online retailers.
97 per cent of Internet users buy online at least once a year.
Shopping by mouse click is today widely accepted and established. Indeed, almost all Swiss residents (97 per cent) who use the Internet also order products there. Around 37 per cent make an online purchase more than once a month. As regards the different age groups, the World Wide Web appeals to young and old alike. Every year, an average of between 500 and 2,000 francs are spent on online shopping per person and age group.
Clothing and accessories are the most popular items
Around four out of five online buyers order mainly clothing, accessories or shoes (79 per cent). Around 60 per cent buy entertainment media or electronic items (60 per cent) on the Internet. Toys and food (28 per cent each) are currently lagging behind in comparison. This indicates a lack of suitable offers. "Amazon's anticipated entry onto the Swiss market is set to fundamentally change this situation," believes Jean-Claude Frick, Comparis Digital Expert.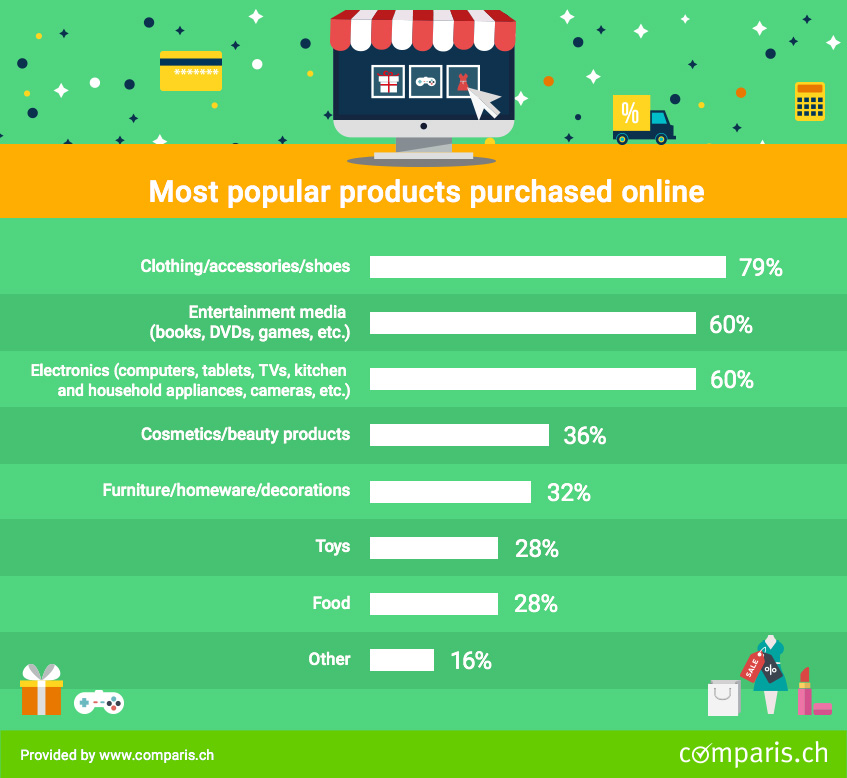 Online shopping tendencies confirm established clichés: women buy more clothing and beauty products than men; men buy more electronics, although since last year they have been exhibiting a growing tendency to purchase clothing online. Indeed, clothing now ranks as the most frequently purchased product category among men too.
Men spend more money
Men tend to spend more money online than women. 40 per cent of them "invest" between 500 and 2,000 francs per year in online purchases, with 16 per cent spending between 2,000 and 5,000 francs per year. Only 8 per cent of women fall into the latter spending category.
Security not a concern
Customers tend to have a lot of trust in the online retail sector. 76 per cent believe that online shopping is safe. Only 8 per cent feel it to be unsafe. Even though most claim to have no concerns about security, they tend to prefer payment by invoice (46 per cent). Interestingly, women request payment by invoice more often than men (55 per cent versus 36 per cent). Payment by credit card is the second most popular payment method overall (36 per cent) and the most popular payment method among men (45 per cent).
As a rule, "people who use the Internet also buy on the Internet," explains Jean-Claude Frick.